How to Shop for an Overhead Stirrer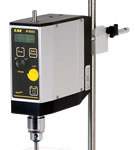 Stirring is a common activity in research labs as scientists work to refine processing procedures.  Two of the most common techniques are magnetic stirring with or without a hotplate, and overhead stirrers. Benchtop overhead stirrers are not equipped with hotplates. But unlike magnetic stirrers they are able to process larger volume samples and samples with viscosities that either are too high or become too high for a magnetic stirrer to handle.
Overhead stirrers – sometimes referred to as overhead mixers – offered by CAT Scientific are precision instruments featuring microprocessor control that allows researchers to control speed in stepless increments.  In this post we provide a brief list of features you should consider when shopping for an overhead stirrer.
Auto shutdown

.  We list this first because it an essential feature that protects your investment in an over head stirrer if an increase in sample viscosity overloads the drive motor and causes it to overheat.  High-end models will automatically lower the stirring speed should the torque taken by the motor shaft means it cannot hold the programmed speed.

Soft start-stop

.  Avoids sample splashing.

Sample size

.  This will help determine the power of the stirrer motor.  Typical capacities are 35, 100, 150 and 200 liters.

Stirring speed.

This varies by model.  Examples in RPM are 50-500, 30-2000, 40-2,000 and 20-700.  Higher speeds are available on order for some models.

Stirring time.

Program when the stirrer should shut off.

Torque energy.

 This is measured as Ncm (Newton centimeter).  The higher the torque energy the more torque it can apply to the sample.

Sample viscosity

.  Viscosity may change during stirring so specify an overhead stirrer capable of handing the maximum viscosity expected.

An RS232 interface

This enables connections to computers that (1) can be programmed to operate the overhead stirrer and (2) collect performance data for record keeping.
 

Intuitive controls.

  These can be as simple as on-off switch and speed control dial with an LCD speed indicator to highly sophisticated self-diagnostic controls that alert the cause of a shut down.
A 2-year repair or replacement warranty.
For more advice on this important topic please see our article on selecting overhead stirrers.  If y ou have special concerns or needs regarding the use of an over head stirrer do not hesitate to send us a question.