What Are the Advantages of a Digital Programmable Hotplate Stirrer?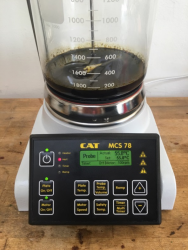 Digital programmable hotplate stirrers from CAT Scientific, models MCS77 and MCS78, offer some fairly straightforward advantages in the laboratory. As programmable devices, these basic — yet sophisticated — pieces of research and development equipment allow you to eliminate any guesswork when heating, mixing, and dissolving reagents and other important solutions in the lab.
Programmable for Precise Control
As programmable hotplate stirrers, these devices also give you the power to control the temperature of any liquids being stirred. An auxiliary Pt 100 temperature probe can be interfaced using the handy DIN connector on the back of either model, further facilitating precise temperature control, up to 300° C. These highly flexible, robust devices enable you to achieve your desired temperature, or temperatures, and maintain them for preset lengths of time.
Safer Than Ever
These sophisticated devices also ship with built-in safety features, such as internal security, which automatically switches off the hotplate function and implements a Safety Stir Time, to help avoid overheating.
For added convenience, you may adjust the display to render temperature readings in degrees Fahrenheit or Celsius. The default, of course, is Celsius.
Optional PC Interface
These devices also feature an RS485 Interface port. Use an optional RS485 to RS232 adapter (PN: 61703-50) to interface with a PC, giving you still more control and flexibility.
Various LED warning lights on the spill-resistant front panel notify you when the hot plate is in use, or when it reaches 60° C (140° F) or greater. Even after the heating element has been switched off, this light warns operators that the hotplate is still hot to the touch and could cause burns.
Variable Speed, Timing, and Heating
Of course, the variable-speed hotplate stirrer motor is fully controllable, and mixing times can easily be programmed according to predetermined schedules of your choosing. When programming temperature controls, the device will ask you for the volume of liquid being stirred and/or heated.
This enables the device to anticipate just how much heat energy will be required, for what length of time, to achieve and maintain your predetermined target temperature in a timely fashion. Inaccurate inputs could cause the device to heat your liquid too quickly, or too slowly.
These hotplate stirrers even allow you to program gradual heating according to a set schedule. For example, the Temperature Ramp function can be programmed to raise the temperature of your liquid by 10° C per hour, or whatever increment you choose, up to the device's maximum set temperature.
Of course, to use your device with a handy Teflon-coated magnetic stir bar, your mixing vessel must be permeable to magnetic fields. Pyrex glassware is highly suitable, as are ceramic or stainless steel containers.