Invest in Success: Start Your Cannabis-Infusion Business off Right
Success in the lucrative cannabis-products marketplace will depend heavily on your ability to consistently deliver high-quality products. And that depends on your willingness to invest in the right laboratory homogenizer equipment.
Make no mistake: This is no job for home appliances. A kitchen blender, for example, may seem adequate for blending CBD-laced salves or tinctures on a small scale. But even when small batch sizes are adequate to meet your goals, you should be aware that these non-laboratory-grade machines simply can't keep up. To achieve proper homogenization, you'll need a laboratory homogenizer.
Consistency Depends on Proper Mixing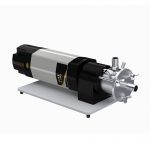 To ensure consistent quality it's crucial that you invest in powerful equipment specifically designed for the tasks at hand; such as a benchtop homogenizer, laboratory overhead stirrer, or perhaps a digital magnetic hotplate stirrer. Consistent quality means delivering predictable concentrations of active ingredients such CBD and/or THC — in every single dose you produce for sale. Failure to ensure consistent quality control could damage your reputation — and that of the industry as a whole.
Customers require— and deserve — accuracy in labeling. That's only achievable if you use the proper equipment to manufacture your products. A high shear homogenizer from CAT Scientific, for example, ensures that you'll easily achieve consistent homogenization throughout the entirety of a given batch. These expertly crafted, robust machines have been purposefully designed to achieve the challenging mixing and blending tasks required to produce products containing known amounts of cannabis extracts.
Designed to Meet the Rigorous Demands of Research and Industry
These are industrial-grade machines, capable of meeting any mixing challenge. The most difficult of challenges may be overcome easily by using any of our inline or hand-held homogenizers. Featuring a time-tested rotor-stator design, our high shear homogenizers are modular, and thus, exceptionally convenient. Flexible enough to move from one challenge to the next — and back again — these devices feature superb German engineering and expert craftsmanship.
We also carry mechanical overhead stirrers to facilitate blending. Our high torque overhead stirrers feature the same exceptional German craftsmanship and engineering as our laboratory homogenizers. With a number of models to choose from, you're sure to find the laboratory overhead stirrer that's just right for your manufacturing needs.
We also offer a number of digital magnetic hotplate stirrers. These sophisticated, programmable devices harness the power of magnetism — and digital controls — to help you blend various liquids at leisure. These devices shine in instances where heating helps facilitate blending. A hotplate stirrer with thermocouple from CAT Scientific can be programmed to stir your blends at whatever temperature you deem appropriate, for as long — or as briefly — as you like.