Take Control: A Digital Magnetic Hotplate Stirrer Gives You the Power
Many of the tasks performed in a given laboratory may be described as mundane. Stirring, mixing, blending, homogenizing, heating…all of these tasks and more constitute the ordinary, workaday business of a working laboratory. Many of these menial tasks can be accomplished using manual labor — and sufficient time, not to mention patience.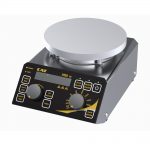 But they can also be accomplished — easily, thoroughly and reliably — using the right lab equipment. Take the digital magnetic hotplate stirrer, for instance. These robust devices are foundational pieces of equipment in any laboratory worthy of the name. Common in labs around the world for at least the last half-century, these devices empower scientists, technologists, and researchers to devote more of their valuable time to their worthy pursuits, and less time and energy performing mundane, menial tasks.
Take the Drudgery — and Guesswork — Out of Mixing
A digital magnetic hotplate stirrer with thermocouple is a sturdy, yet sophisticated piece of machinery that gives you the power to mix reagents, dissolve solids, and prepare the solutions needed to move forward with your important processes and procedures. Magnetic hotplate stirrers combine the convenience of magnetic induction stirring capability with the ability to control the temperature of the liquids to be stirred.
Obviously, the ability to heat a given quantity of liquid — as quickly or slowly as you wish — combined with the capability to stir, at any given speed or speeds, for as long as you wish — gives you ultimate control over your stirring, mixing, and blending processes. A lab hotplate stirrer from CAT Scientific will do all of these tasks, and more, for many years to come. That's because we offer products exclusively engineered and manufactured in Germany, using rigorous standards for design and construction. There's a reason German engineering is recognized throughout the world as emblematic of excellence.
Digital Controls and the Ability to Interface with a Computer
Featuring flexible digital controls, and the ability to interface with a PC, these remarkable devices make short work of common mixing tasks, freeing you up to pursue your goals. As noted above, the modern digital magnetic hotplate stirrer is a common — essential — piece of laboratory equipment. But we know you have many options when it comes to selecting a device for your laboratory or R&D facility.
We want you to know that we carry a full line of magnetic hotplate stirrer options. From units that can safely and conveniently accept round-bottom flasks, to units designed for small amounts of liquid, all the way up to units capable of safely and reliably mixing up to 10 L, our digital magnetic hotplate stirrers are used in labs all over the world to advance the march of science and discovery.