Temperature Control is Crucial for Blending Distillate and Terpenes
Blending distillate with terpenes is an important step in the creation of various cannabis products intended for retail sale. Of course, terpenes are aromatic compounds that occur naturally in whole cannabis plants. Their retention — or reintroduction — to select products may contribute to the flavor and final character profiles of these products.
Perhaps more importantly, terpenes can make distillate easier to work with by helping to reduce overall viscosity.
Precise Control Over Heating Is Essential
But blending distillates with select terpenes involves a delicate procedure in which these substances must be heated — minimally, carefully, and consistently — to facilitate blending, without altering the chemistry of the compounds in question. In essence, achieving the lowest temperatures that will facilitate blending is typically the goal. Therefore, strict and precise temperature control is a crucial factor that can affect the success of your manufacturing process, while helping to enhance the appeal of your final distillate product.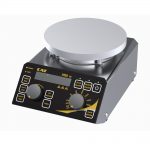 We strongly recommend the use of devices specifically designed for this purpose. A digital magnetic hotplate stirrer from CAT Scientific, for example, allows you to achieve precise temperature control for selected lengths of time. Our hotplate stirrers are laboratory grade, meaning they give you remarkably precise control over temperature, across a broad range of temperatures.
While many options are available, you should be aware that using a less sophisticated model could result in overheating, which could damage your raw materials, rendering them essentially useless. You may use the simple magnetic stirrer feature. But for even better blending, we further recommend using one of our laboratory homogenizers. These precision, German-engineered devices allow you to achieve uniform particle size reductions, and superb, rapid, thorough mixing of disparate substances
Achieve Uniform Particle Size Reduction and Seamless Blending
The X1000 and X1000D benchtop homogenizers, for example, in conjunction with our G20 (V) Coarse Generator Shaft, make short work of this often challenging task. In most instances, we recommend heating both distillate and terpenes to 65° C on your laboratory magnetic hotplate stirrer. Then simply place the beaker on a homogenizer stand, and introduce the tip of one of these homogenizer shafts. Power on, ramp up to your desired speed, and wait 60-90 seconds for homogenization and thorough blending to be completed. After this quick and efficient processing, your uniformly blended distillate product is ready to dispense into units for retail sale.
As you can see, the most efficient, effective path to success with cannabis products involves the use of appropriate tools. At the very least, a magnetic hotplate stirrer and high shear homogenizer are crucial tools for this enterprise. At CAT Scientific, we can help you select the proper tools for the job, so you can achieve consistency with every batch.
For assistance in determining which laboratory tool is the best fit for your project, call us at 805-709-1056.